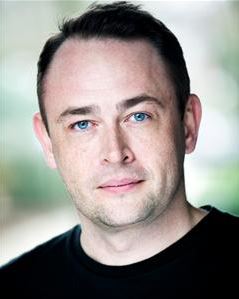 Jack Pierce (Sam)


Jack trained at Drama Centre. His Theatre credits include: S-27 (Finborough); A Streetcar Named Desire; Frozen; Powerbook; Sparkleshark (all Royal National Theatre); Othello (National Youth Theatre). His Television credits include: Midsomer Murders (Bentley Productions); Eastenders (BBC); Silent Witness (BBC); Doctors (BBC); The Bill (ITV); Footballer's Wives Extra Time (2 seasons) (Shed Productions); The Eleventh Hour (ITV); Holby City (BBC); Ultimate Force (Bentley Productions); Murphy's Law (BBC); London's Burning (ITV); Back Home (ITV); Coupling (BBC); Black Books (Assembly). His film credits include: Clubbed; Shooting Dogs; Alien Vs Predator; Gangster No 1.

Antonia Davies (Cas)


Antonia trained at The Central School of Speech and Drama and is a keen supporter of new writing. She has performed most recently for The London Dry Opera Company in 'Gargolios 2.0', 'Gargolios', and 'Throats', in London and touring Brazil. Other theatre credits include: 'Lady Julie' (Finborough Theatre), 'A Midsummer Night's Dream' (Oxford Shakespeare Festival), 'Macbeth' (Kent's Cavern, Devon), 'Lulu' (Hen and Chicken, Bristol). Her Film credits include: 'Hichestan', 'Meeting Place' and 'The Lords of London' (aka 'Lost in Italy') winner of the New York, Hell's Kitchen, Film Festival and Abbruzzo film Festival, "best film" Award in Italy. Most recent Short Films: 'Tiggily Taggily', 'Arthur Cant' selected by BUFF and shortlisted by Limelight Film Awards for best comedy, winner of Best Film at Troubador Film Event, 'Gravitational', and 'Personality Problem'. http://www.castingcallpro.com/uk/view.php?uid=233226

Toby Liszt (Shalev)


Toby trained at The Guildford School of Acting. Theatre credits include: A Picture of Dorian Grey (Second Skin Theatre), The Hang of the Gaol (Brockley Jack Theatre), Fiddler on the Roof (Yvonne Arnaud Theatre), The Comedy of Errors (Sell A Door Theatre Company), After Mrs Rochester (Electric Theatre), The Hollow (Nuffield Theatre). His television credits include: A Touch of Cloth (Sky 1). His film credits include: Say A Little Prayer, It Happens So Fast and Like Spinning Plates. http://www.castingcallpro.com/uk/view.php?uid=323853

Dominique Gerrard (Malka)


Dominique trained originally with The Actors Company and subsequently specialised in The Meisner Technique with The Impulse Company. Credits include A Midsummer Night's Dream (Abney Park Cemetery), Yellowing (Theatre 503), The Women's War (Finborough Theatre), I Can Get It For You Wholesale (ArcolaTheatre), Dancing At Lughnasa (Actors Centre), Euler`s Circles (Brockley Jack Theatre) and London Falls (Rosemary Branch Theatre). She is also a Director and runs Endpaper Theatre which produces new works inspired by literature. http://www.castingcallpro.com/uk/view.php?uid=54205

Tessa Wood (Roxy)


Trained at Guildhall School of Music & Drama. After a brief spell in repertory theatre, Tessa went into the first West End production of The Rocky Horror Show at The Comedy Theatre, then Annie, Copper Kingdom, They're Playing Our Song, and five pantos. Tessa played Mary Mooney in Once a Catholic and Simone in A Bedfull of Foreigners with the legendary Mandy Rice-Davies. Other credits include Emma Hooper in The Magic Hour at The Soho Theatre, Mother in Memories of Loss and Chorus in Orpheus & Eurydice - both at The Riverside, Hammersmith, Grand Duchess in The Just at The White Bear, Jane Burdock in The Supper Party at The Tabard, and Mary in Five Kinds of Silence. Film roles include Boy George's mother in Somebody to Love Me with Diane Kruger, and comic-book heroine Freeze Girl in multi-award winning Swoosh! http://www.castingcallpro.com/uk/view.php?uid=59079

Jeremy Bennett (Harry)


Training: The Birmingham School Of Speech Training and dramatic Art 1977 -1980. Theatre Includes: The King Speech at The Wyndhams Theatre, West End. Jeremy has toured with the plays TALKING SIDES and HEROES, JULIUS CAESAR in Julius Caesar (Young Shakespeare co) Marc in Art (Merlin Theatre, Budapest) Jeremy is a regular company member of THEATRE MERCHANTS Site Specific company and The Globe Players Shakespeare Children's Theatre. Television includes: The Bill, Don't Wait Up, A Legacy of Murder and Search for Troy. Feature Films include: TIN Holiday to be on general release 2014, MISSION LONDON, QUIET STORM, BOOKED OUT and the cult sci-fi BIKINI BLITZKRIEG. Short films include: Going Down, Like a Sieve, Thin Line and Womble. Jeremy wrote and performed with the comedy duo LIMO & MR B and was a main script writer on the long running Children's TV series Professor Bubble for GMTV.

Luke Harrison (Mussolini, Nikos, builder)


Having trained at the Central School of Speech of Drama in classical acting in 2008 with a brief but invaluable stint at The Moscow Arts Theatre School, Russia, Luke then toured Spain performing as Lorca and subsequently played Creon in Athens and at the Southwark Playhouse. He has worked extensively on the fringe, most notably with Action to the Word (who recently toured the UK and Australia with A Clockwork Orange) in Agamemnon,Choephori and Romeo and Juliet. He also worked with Theatre Delicatessen in Chaika Casino and for Above the Stag in Dangerous. He has recorded several short ghost stories and audio plays for Fantom Films; and TV work includes playing a thuggish Football manager a recent episode of Hollyoaks. http://www.castingcallpro.com/uk/view.php?uid=234209